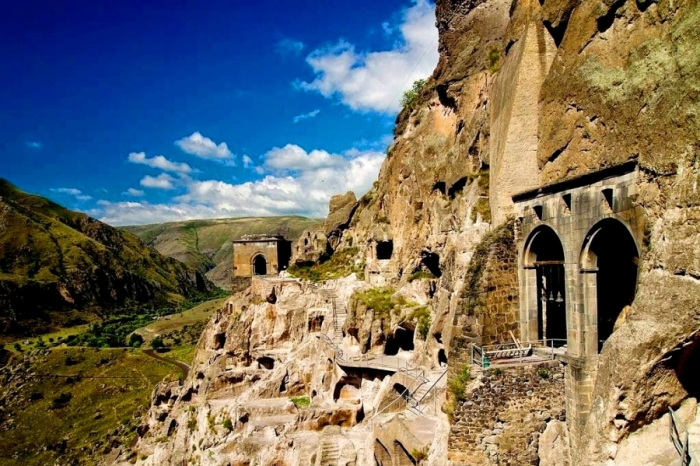 Samtskhe - Javakheti
Samtskhe - Javakheti is a mountainous region, broken by ravines, springs, and lakes, as well as large and fast moving rivers. There are very few large flatlands in Samtskhe and the landscape is complex, composed of flat terraces, hills and volcanic mountains. The main rivers are the Chorokhi and the Mtkvari. The lakes are Pharavani, Khanchali, Sagamo, Madatapha, Bugdasheni and Tsunda.
Samtskhe - Javakheti is one of the oldest inhabited regions of Georgia. Artifacts found during archaeological diggings indicate that Samtskhe - Javakheti was settled during the Bronze Age.
Samtskhe - Javakhet's location at the crossroad of three civilizations contributed to intense development of relations between the ancient cultures of Georgia, Asia Minor, and the Middle East.
Historical Meskheti, which included Samtskhe - Javakheti, shared a border with Greece to the south and had an important role in the Iran-Byzantine wars of the 1st - 5th cc., in which Iran was victorious. The Iranians were ousted by the Byzantine Empire in 626 AD. Starting from the 9th century, the Byzantines and Turks undertook numerous attempts to exercise their political influence over Samtskhe, some of which were successful. In the 12th century David IV the Builder liberated region. In 1124 - 1213, during the reign of Queen Tamar, it became the site of several military actions, though culture life continued to flourish.
In the end of 13th century monglos appeared in Georgia and eventually conquered Samtskhe - Javakheti along with rest of Georgia. By the end of 16th century Samtskhe - Javakheti was once again conquered by the Turks and was part of them until it was returned to Georgia after the Russo - Turkish War of 1828 - 29.

Borjomi - Kharagauli National Park is one of the largest in Europe - it covers more than 76 000 hectares of native forest and sub-alpine and alpine meadows, home to rare species of flora and fauna. It is the first National Park in the Caucasus that met international standards. The Park was established in 1995 and officially opened in 2001.
Rare and endemic species listed in Georgia's Red Data Book can be found in the territory of the Park. The fauna is diverse. Among large carnivores it is possible to find gray wolves, lynx, and brown bears here. Among the hoofed animals roe deer and wild boar can frequently be seen on territory. Among native birds visitors can see the golden eagle, griffon vulture, black vulture and Caucasian black grouse.
The main cities are Akhaltsikhe, Aspindza, Atskuri, Ninotsimnda, Sighseeing of region are Vardzia complex, Khertvisi fortress, Tmogvi fortress, Vani cavern. Resorts are Borjomi, Abastumani, Surami, Nunisi, Sairme - Bagdati and ski resort Bakuriani.