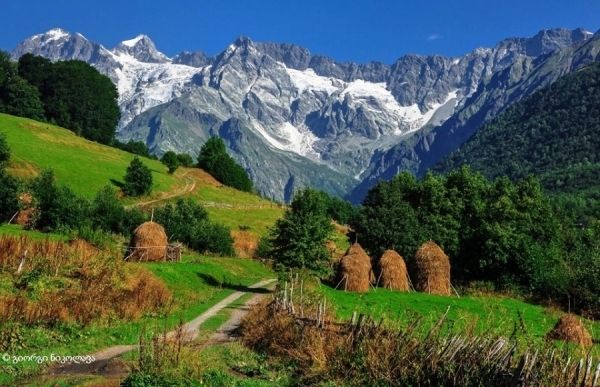 Racha - Lechkhumi
Racha is special, completely unspoiled and beautiful place high in the mountains, boasting a landscape of mountain forests of beech, pine and spruce trees.
For visitors to the region, Racha is a giant outdoor playground. With raging rivers, the region is popular with anglers and rafters, as well as mountain bikers and paragliders. The source of the mighty Rioni River is full of trout and is a haven for fishing, whitewater rafting and kayaking.
But Racha also contains some remarkable cultural treasures, with churches and monasteries dating back to the middle ages.
No visit to Racha would be complete without sampling the local delicacies. The smoked ham of the region, "Lori", is famous throughout Georgia and Racha's most precious export is its rich red wine, Khvanchkara, said to be Stalin's favorite. This fruity red grows in only one tiny village, making it highly precious, and as it does not travel well, it really has to be tasted close to home.
The spectacular mountains of the Racha - Lechkhumi region are rich in nature and provide plenty to see and do. The mountain area is covered with lush green forests and wonderful rivers, so trekking and rafting provides wonderful views and sights. Keen climbers will have plenty of challenges on Mount Khvamli and Kechkhum while rafting on the River Rioni is a special treat. Or, try horse riding deep into the forests.

Most famous resorts is Utsera, Shovi, Ghebi and Chiora and municipalities Oni and Ambrolauri.